Alex, Jay, and Pablo with their coffee and tea experiments Sunday night.
Yesterday we had to say goodbye to Finca La Anita. We bought various items from the gift shop, ranging from a machete to a large stuffed sloth, and visited to the jewelry store owned by the women we helped previously. From there, it was a long and extremely bumpy car ride to our next destination. However, we stopped by Liberia to use the bathroom, as well as buy some oddly cheap bread, Oreos, and other necessities.
We arrived in Horizontes, a research station located in the dry forest. The dry forest only has torrential rain half the year. We got situated in our remarkably small rooms and had lunch.
We were given a short lecture on sea turtles by Veronica, a senior majoring in marine biology at the University of Costa Rica. We were also given a lecture on the second year program of Seeds of Change by Beth.
Some time later, we went into the dry forest to make observations on "above-ground ants" that they felt like we needed to learn about, despite some of us feeling happy to never touch an ant again. We were lead to some acacia trees, on which we could see multiple ants. After some prodding, pinching, and breaking of the trees and their thorns, we returned to the classroom to compile our observations. It turns out the ants have a symbiotic relationship with the trees and live inside their thorns.
At 8 o'clock, we drove on a dark and distressingly unstable road to the beach. There we split ourselves into four groups, two of which patrolled the beach looking for sea turtles. We couldn't use lights for fear of disturbing them, so we stared at every rock and other shadow on the moonless, sunless, streetlamp-less, beach until realizing that it probably was not a turtle, or at least a very lazy one. The waves were a little unnerving; you could hear them crash but never sea them. At 10 we switched, and the other two groups headed out.At the ungodly hour of 12 we headed back and promptly fell asleep.
Today after breakfast, we met our favorite tour guide Freddy and headed out into the dry forest. There we learned about very fast growing and massive trees that needed a large base to survive the winds and yearly droughts. We also learned how to use the jungle to acquire valuable survival gear such as water, fruit, mosquito repellent, alcohol, crosses, bowls, and silverware.
The vines he showed us use everything from claws to tendrils to make their way up into the sunlight.
We saw some animal tracks on our way to a watering hole/dried up waterfall, but due to the trumpeting of the group members who found some grass, we were unable to spot any animals there. Standing at the top of the temporarily inactive waterfall, we contemplated our own mortality. After traumatizing a turtle and befriending some minnows, we got on the back of a tractor for a nice easy ride back to Horizontes.
Daring gravity to inconveniently ruin the picture (and the rest of the trip).
The vines attempted to abduct us whenever they could, and while they only managed to temporarily acquire a hat, they betrayed Henry when he attempted to Tarzan swing away. Several grasshoppers chose to ride with us, including one with a spike the size of Jay's pinky which it used to defecate on his hand.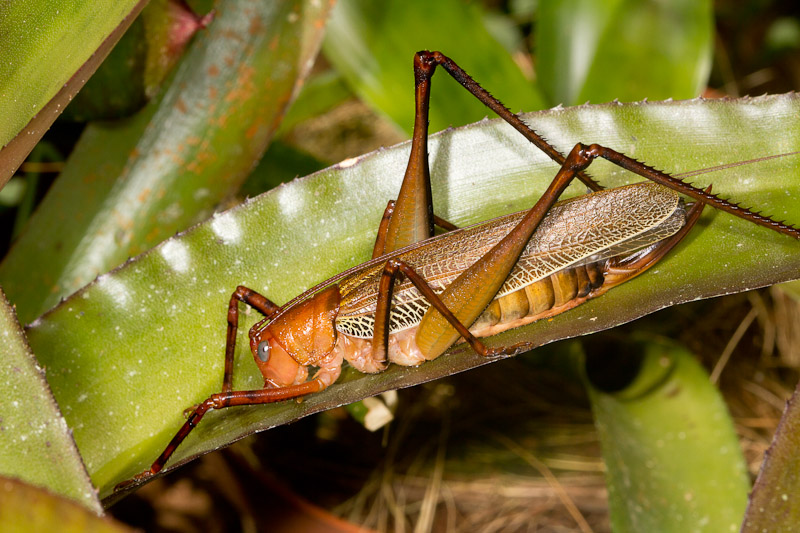 Here is a google image because none of us wanted to take out our phones.
After that was done, we said good riddance to our boots. We recuperated for an hour or two, before our next activity: going to the beach.
It was a very different experience the second time; apparently there are layers of mountains to the right and a huge cliff to the left. We hardly even recognized it as the same beach that we went rock-watching on, probably because we could see enough to distinguish a turtle from a rock.
Today was a holiday in Costa Rica, so some other groups were hanging out at the beach when we arrived. It didn't take long for a couple to become involved in a soccer game with some of our athletes, which went on for quite some time. Meanwhile, everyone else rode waves, swam, got saltwater in their mouths, sand in their everywhere, and generally had a good time.
Before long we migrated south to the river estuary which had crocodiles on one side, and conflicting currents on the other. Luckily the area between was nice and cool, so no one was tempted in either direction. After a cannonball competition, two sandy wrestling matches, and Jay being buried alive, we returned to the main beach for more swimming and waiting for the barbecue.
The food was a delicious cookout, so the meat-eaters were very happy. There was also a beautiful sunset with gentle golden light, which when combined with the beams of sunlight made for a very renaissance-esque view. It was a wonderful way to end off the trip.
Tonight we'll be packing our bags, checking our beds for scorpions, and getting excited about coming home (to our real beds, showers, and internet).
- Jay & Lia